What's Under That Rock, Papa?
When Serea and Kai spend a weekend at their Grammy and Papa's home, it's always a time of discovery and fun!  Join them as they encounter the wonders of backyard nature, from the microcosm of life under rocks and compost piles, to the joy of learning why thunder sounds scary and rain clouds are black. With Serea and Kai as their guides, children and adults will be encouraged to join in exploring their own backyards in search of those fascinating moments of discovery fostering inquiry learning and the riches of playing in nature.
GROW, LEARN,
CREATE, CONTRIBUTE
Discover novel ways Papa introduces Serea and Kai to the science hidden in backyard nature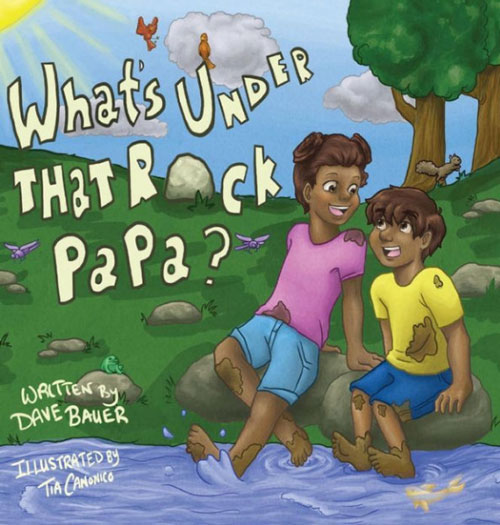 Robert Pruett, President/Publisher
of Brandylane Publishers, Inc.:
"Dave is a stellar presenter who brings integrity, passion and knowledge to his audiences. He brings his book to life for kids, and as a veteran teacher, also teaches an important lesson to young readers, especially to those who spend entirely too much time in front of digital media. I'm confident that parents and children who attend the expo will learn from Dave's unique activities, and they'll have fun at the same time. After 30 years in the business, in my view, few children's book authors rise to Dave's level in terms of his commitment and mission to inspire kids to explore the natural world."
Beth Staebell, Librarian (Amherst Public Libraries):
"The children thoroughly enjoyed Dave Bauer's Creative Nature Play Program! Taking time out to look around, breathe in the air and observe one's surroundings is so important in these hurried days of technology. Standing under a tree, picking up rocks, looking up to the sky and down on the ground… hours of play right in our own backyards. I recommend Dave's program – he will get children thinking and learning about nature in a creative, fun fashion."
Kim Krug, owner of Monkey See Monkey Do Bookstore
"Dave's Creative Nature Play Workshops are essential for the entire family to experience – I had the pleasure of participating in the "Hideout for Trolls" workshop offered at the bookstore and found myself fully immersed in the activity.  Dave starts his sessions masterfully with a mindfulness exercise that sets the tone and engages the senses in nature exploration and from there he questions, challenges and helps guide children and adults to creatively play, experiment and be present in the overall experience.  These programs are a must-have for our bookstore, they align perfectly with our mission of "bringing books to life" and fostering a love of reading along with exploring nature!"
Katie Bishop, Grade 4 teacher (St. Mary's School)
"My students and I recently experienced "Creative Nature Play" through Dave's storytelling and outdoor expertise. Dave was able to engage the students while sharing his book, "What's Under That Rock, Papa?" and with hands-on examples. His activities appealed to the three basic learning styles; visual, auditory, and kinesthetic. Through inquiry and investigation, Dave helped the students understand and appreciate the wonders of nature."
You can purchase "What's Under That Rock, Papa?" from local independent book stores and online.
Pages: 38
Published: 2015
ISBN: 1939930669
ISBN-13: 9781939930668
List Price: $19.95
Publisher: Brandylane